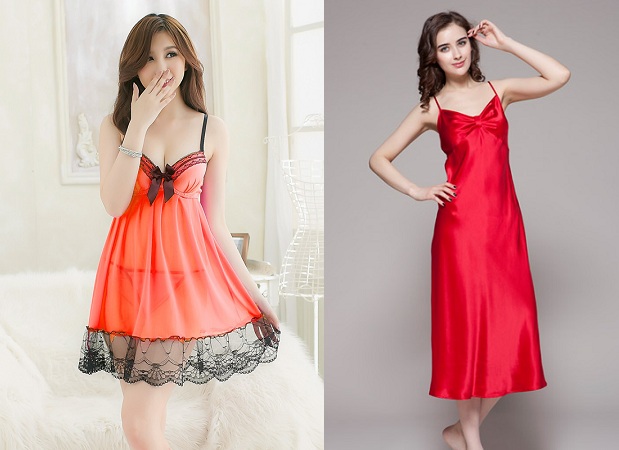 6 Types Of Night Dress That Will Amp Up Your Style Game
For as long as most of us can remember, when it comes to sleepwear, and as bedtime approaches, we start to don our oldest, most boring tees to retire for the day. However, according to fashion experts, just like day wear, night dress for women has been an integral part of women's fashion. In addition to offering comfort to your body and keeping it cool to have a well-rested, undisturbed nap, nightwear being the first time you see yourself every morning has a tremendous effect on your self-confidence and esteem. So, along with being extremely comfortable and cosy, an ideal item of sleepwear should also be stylish, fun and bring out the best in you. 
And to help you in your quest to find the best night dress for women, we have compiled a short list of 6 types of night dress that will amp up your style game:
An item of sleepwear that first comes to mind when we think of comfort and style is a night dress. For women, a night dress is a long, loose garment usually available in various airy and soothing fabrics like cotton, satin, silk, and even linen. Also available in many different styles like short nighties that are knee or mid-calf length, sleeveless nightgowns with spaghetti straps, and so on, night dresses will want to have in your wardrobe to add versatility to it. 
A camisole is a thin-strapped top that is well fitted, made of elastic fabric and also one of the go-to sleepwear items of every modern woman. These can be worn as undergarments when you're not in the mood for bras, can be paired with shorts, skirts or capris, and as undershirts with jackets, shrugs or low cut dresses. 
Hands down the best attire for all age groups, from tiny toddlers to senior citizens, a fresh-coloured pair of shorts and your favourite type of tops like tank tops or vests make for the most enjoyable and breathable night outfits. 
Essentially a more extended version of a camisole, a chemise has been the most preferred night dress for women for a couple of hundred years. A chemise will make you embrace your femininity and offer comfort to sleep your tiredness away. Available in fancy, lightweight and breathable fabrics like cotton and satin, a chemise is easy to slip into and the perfect night dress that can also be used as loungewear. 
Capris are something all of us have worn as kids, but who knew they would make such snug and comfy nightwear? Capris fall between long pyjamas and shorts, usually ¾ length and comfortable. 
Cotton pyjama sets usually consist of full length loose fitted pants accompanied by a similarly loose fitted button-down. No matter how tired you are, these airy items will never fail to make you feel relaxed and at ease. Grab the best one in the most vibrant colours and patterns from Zivame.