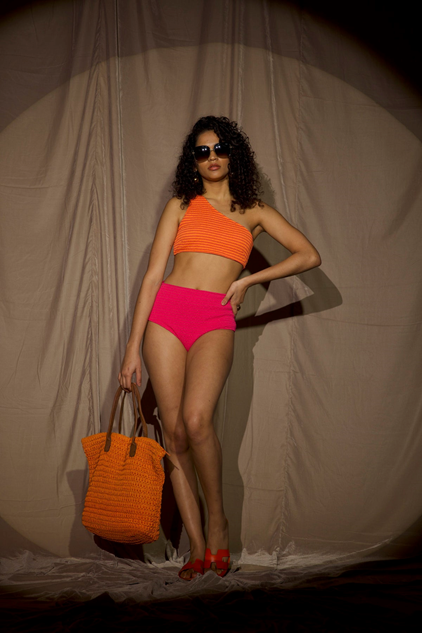 Catch the Waves in Style This Summer with These Stunning Swim Wears
One of the reasons you eagerly look forward to summers is your zeal for swimming. Besides being a great form of exercise and leisurely activity, the best part about swimming is the swimsuit you wear. Compelled by the human tendency to look good at all times, you try to keep up this habit even while in water, especially women. You continue exploring unique and trendy swimsuits from time to time. There is a wide array of sensual yet cool swimsuits and wetsuits around, however, more than half end up compromising functionality for being fancy. You need to ponder on a series of technicalities while you are on a hunt for the best swimsuit to have an emboldening and revitalizing swim of your life. The cut, the fabric, the thickness, UV protection, stretch, sealing, – everything matters!
Dominique Miller, a professional surfer recommends a must-trial of the swimsuit you are planning to buy if possible before paying a bomb for it as often it looks better on the hanging at the shop than on your body. However, since online stores have tons more options to pick from but offer no pre-purchase trial rooms, this list of exclusively designed and fashionable bikinis and swim trunks, considering the essentials of an ideal swimsuit, has got you sorted here.
High-Cut Silhouette One-Shoulders
Whether it is Bottega Veneta's Single-Shoulder Crinkled one or the One-Shoulder Scarf Cover-up and the Tribal One-Shoulders from Dash and Dot, you look sassy in it on a sunny hot day both in and out of the pool. The super-soft fabrics and easy-breezy cuts of these swimsuits make them your summer go-to.
The 'Tarzan' Strings
Since the famous Hollywood film was released years back string bikinis become a big hit and continue to be in fashion to date. You might not be comfortable wearing it on a family vacation, but it's ideal for a romantic beach date in Goa or if you are planning a sun tanning session with your friends. Although every brand has its takes on its string bikini designs, you can try the stylish Dash and Dot Geo Thread Embroidered Bikini with silken thread and Dori embroidery on a black base. It is resistant to chlorine, suntan creams, and oils.
Crochet – Not sweaters!
Recent trends have made us believe that crochet exists other than in sweaters too. Instagram and other social sites have proved this by showcasing the various crocheting skills and paved the way for this homespun style to reach summer fashion this year. However, this one might be a little bawdy sometimes; you can always reach out for a matching or contrasting cover-up.
Spicy Monokinis
The fashion of swimsuits without tops rocked the boat in the 1960s only amidst the highly conservative and orthodox minds. It was only during the pandemic that the urge of flaunting perfectly-maintained bodies rested for a while. But, last summer, people came out in a variety of monokini styles that no one has seen before. Many renowned designers like Honey Birdette and Neena Swim refreshed monokinis with the bottom and top only connected by thin strips of fabric and adding an O-ring creatively. Brands like Dash and Dot have some extraordinarily beautiful monokinis with complimentary long shirt cover-ups as well.
Rest assured, these swimwear styles empower you to dash the fierce ocean with the power of a positive mind and body. These designs also go with your everyday OOTD. If you are planning to buy swimming costumes online, pick some of these swimsuit fashions from Dash and Dot today to make your swim day blissful and enthralling. They have some nice tops for women online as well that might pair up with your crochet or string bikini for your after-bath appearance.
Happy Shopping!