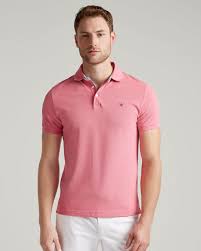 Explained: How To Take Care Of Your Hackett Polos
Clothes need intense care. Only purchasing them from the mall or online to keep in your cupboard will not work. In cases where the clothes have been bought at the expense of a lump sum, you will not juggle around to keep them piled up on the chair! The same goes for Hackett polos, a Britain-based luxury brand that is making a clear win on the shopping list of many men. Moreover, for any polo t-shirt, care is necessary to make them last for a long time.
With so many trendy polos, Hackett London has accomplished the heart of many men. Be it the style, trend, look, fit or quality, this luxury brand has managed to keep up with them all. But if you are not impressed enough, then check out this link to find some of the top collections of Hackett Polos: https://www.darveys.com/collection/clothing/designer/hackett/clothing-type/polos
Hackett Polos have become popular on men's shopping lists lately. It is due to the fact that these polos are offered by the luxury brand and their durability is longer than you think. But as mentioned, clothes require care. These can be done with the help of instructions that are provided by the brand. So, to make it easier for you, let's see how you can actually keep your Hackett Polos look like just-bought attire all the time!
Tips to Take Care of Your Hackett Polos
The aftercare of Hackett Polos demands a few efforts from your end. These can be discussed with the help of the points below:
Washing Care
For washing instructions, always remember the rule: less is more! Don't keep washing your attire every other day. In the case of Hackett Polos, keep the washing simple and easy. Avoiding harsh detergent would be a smart idea. Also, make sure not to add aftercare serum to clothes as these are naturally durable and the harsh chemical in serum might just do otherwise. Just mild detergent and rinsing with plenty of water will do.
Drying Instructions
Colours always need to be dried in shade and the same instruction is there for Hackett polos. Moreover, it is advisable to dry on a flat surface instead of hanging it. If you have clothes drying machine, then don't worry about any alternative but if not, remember to keep it away from direct sunlight.
Ironing Right
Hackett Polos are manufactured using 100% cotton material and thus the clothes may wrinkle easily. Steam ironing would be a good option for ironing polos. However, if you are using a dry iron, you should spray some water droplets first so as to avoid material irritation.
Folding or Hanging
These are the only two types of storage we know. Most of the t-shirts are folded and kept in the almirah but hanging Hackett Polos is a safer option. In the case of folding, make sure the drawer is dry and neat. Also, ensure to change the folding side every fortnight.
Storage Factors
To store clothes, make sure the drawer is neat, dry and free from pests that would otherwise damage the cloth. Also, do not forget to use naphthalene balls and other protective ingredients to keep your clothes away from fungal or moisture damage.
So, these were the tips to store and protect your Hackett Polos from the possibilities of damage. After all, taking care of the expensive t-shirt is all you will need after you buy them. Also, these instructions will help your clothes last for a long time in a new condition, so every time you wear them, you will feel the just-bought vibes!