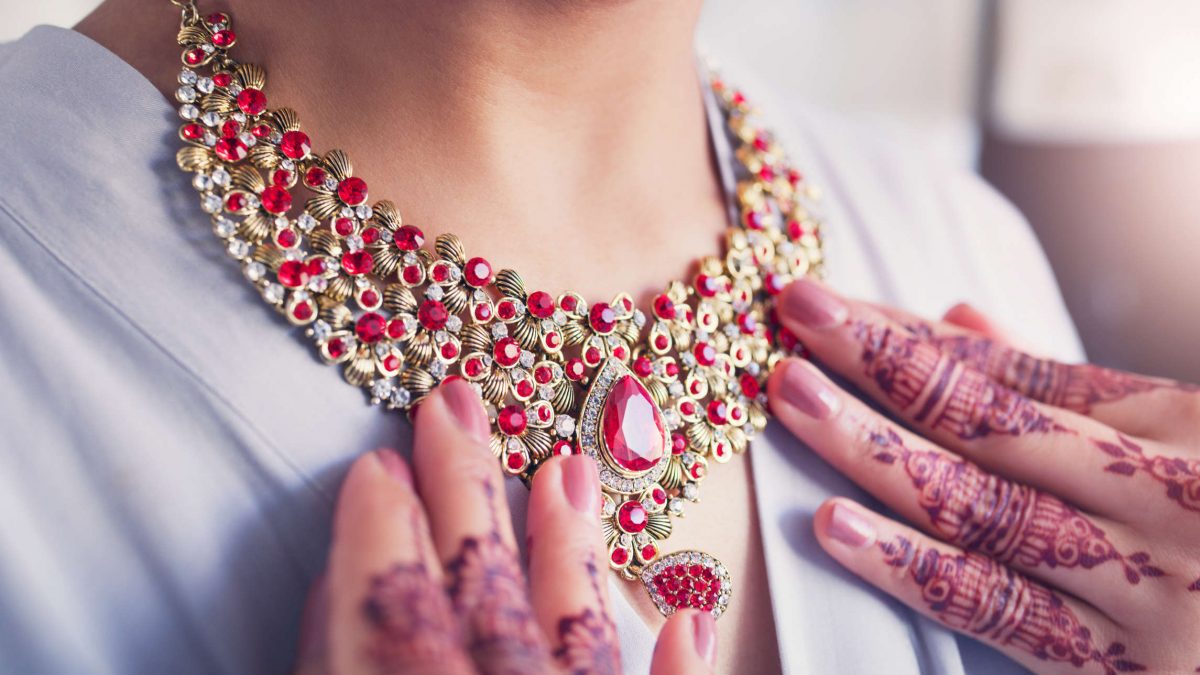 How to Choose the Perfect Jewellery for Your Summer Wedding?
Choosing wedding jewellery can be overwhelming. You don't know where to begin and how to start buying. Mentioned in this post is a short guide that can help you get started. Keep reading. 
A wedding is a grand occasion in one's life. Be it flowers, venue, dress, or your accessories — everything should be at par to make it memorable.
A few preparations like buying your dress and accessories could be the happiest and most exciting yet nerve-wracking preparations you might look forward to.
Things; however, become overwhelming when it comes to buying the right jewellery that not only is elegant but that also accentuates your overall look.
Below are 6 key points to consider before getting into the shopping spree. 
Stay True to your Style
It's your day. Keep things simple yet elegant and graceful. You don't have to go overboard or fully laden to draw attention. For minimalist brides, a statement diamond piece with a small diamond-studded Maang Tika is good to go. If you love to play and experiment, then go for gem-set jewellery pieces that add twists and colours to your look.
Harmonize your Dress and Jewellery
It's debatable whether you should buy your jewellery first or your dress, but the bottom line is everything should fall together. Your accessories are meant to enhance your look. Select pieces that complement each other rather than create a mesh. Match your metals to the dress. If your dress has pink hues, rose gold will be a perfect choice. Jewellery with a gold base would go well with ivory tones.
Consider the Occasion
Indian weddings are more than a day's celebration. It is wise to plan your jewellery that suits the occasion. For Haldi and Mehendi ceremonies, select lighter pieces like unpretentious diamond studded earrings and gold chains. Dazzle your way into cocktails and reception wearing diamond pendant necklaces.
Necklines and Hairdos
Your necklines decide your neckpiece. and your hairdos decide your earrings.
If your neckline is higher, almost touching your neck, then it's wise to restrain yourself from wearing a necklace and instead focus on drop earrings, bracelets, and diamond-studded bangles. You can even consider wearing a waistband. If your top has a V-neck, choker or pendants will be perfect.
Coming to earrings, if you decide on up-dos, you must go for heavy earrings. In case you keep your hair down, a long earing style will complement your overall look.
Also, remember, earrings should not be the cause of your distress during the wedding. Heavy is good as long as you are comfortable. 
Choose the Right Nose ring
The nose rings accentuate your facial features. These little pieces bring exquisiteness to your overall look. Find the one that suits your face. 
Find pieces that you Actually like
Find something that you would want to wear time and again. You can always lock them up, or you can be a wise buyer and look for detachable jewellery or classic jewellery that never gets outdated and flaunt it a few more times.
You can look for pretty diamond pendant designs that can detach from your heavy necklaces and can be worn separately for less flashy occasions, such as cocktails.
In the end, it is your wedding — your big day. Nothing is worth your comfort. Jewellery should enhance your beauty and bring confidence but not at the expense of your comfort. Find pieces that match your style, and do not meddle with your big day. 
The best is the one that you wear.
Start Looking Online
To get some amazing jewellery ideas, start looking for them at online jewellery stores. And if you like a piece, don't be scared to pick them up. Most of these stores are credible, offering original and unique jewellery designs that you may not be able to see in a store. However, trust a reputable online jeweller that offers great variety, good prices and an easy cancellation/refund policy.