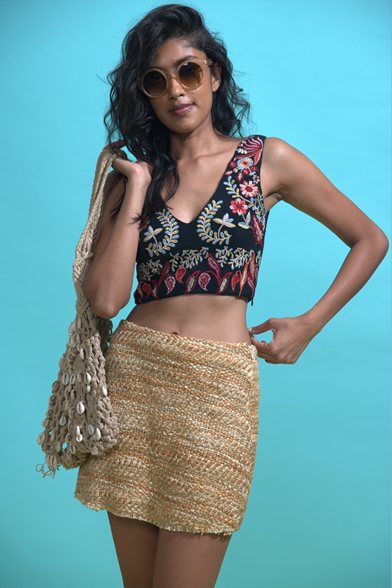 How to Dress Up A Skirt
Even though the remainder of your outfit is very simple, there's just something about wearing skirts that helps you to feel dolled up. It's impossible not to feel charming in a simple tee shirt with a natural face and a drab pair of sensible shoes, as long as there's a twirling skirt in there. Shop a wide range of short skirts or long skirts for women online at Dash and Dot and style them like this
Oversized Blazer + TurtleNeck
We adore this ensemble for its beauty and simplicity in equal proportion. It's stunning, elegant, and incredibly comfortable, especially on cooler monsoon days. A cami with lace accents will be the perfect top to pair with your denim skirt, and a cosy knitted shrug will complete the ensemble. Accessorize with simple jewellery like a delicate tiered gold necklace.
Shirt With a Light Wash of Denim
Denim on denim is always in style, and this combination will always be one of our favourites. A cut denim shirt folded into gently distressed denim skirts, especially in a softer wash than your lower piece, creates an instantly attractive outfit idea. Opt for basic ballet sandals or a classic pair of heels, and accessorise with a stunning handbag.
Printed Midi + Front Knotted Graphic Tee
This dress is all about transforming a lovely printed pleated skirt into a sporty, casual, and very generation-y ensemble. On your midi, seek a little spatter of design and a slightly uneven hemline. Put the skirt over your waist and knot your preferred graphic t-shirt just above the skirt's waistline. Buy women t-shirts online and freshen up your closet with a piece of all-white shoes, you'll be ready to turn attention even without attempting it!
● Chiffon Maxi Skirt + Satin Halter Top
Minimalism is elegant, as evidenced by this maxi skirt ensemble. A breezy blue chiffon long skirt paired with a strappy olive v neck blouse creates a subtle yet dramatic colour block in your maxi skirt ensemble. Keep the jewellery simple, or add a pair of classic earrings, and you're good to go.
● Button-Down Shirt with No Sleeves + Chunky Belt
This is a contemporary and classy maxi skirt dress that is both fresh and easy-going. It's also a great maxi skirt look for the office, keeping you cool and fashionable. Wear a flowery printed maxi skirt with a cotton short-sleeved button-down. The design is finished off with a hefty woven belt that both literally and symbolically ties everything together.
● Leather Skater Skirt + Dotted Button-Down
Your wardrobe should include a skater skirt, and this look is a great representation of why. The beauty of a full-sleeved polka button blouse paired with an edgy leather skater skirt is something to die for. Put on a pair of sheer black stockings and you'll look like a million bucks.
● Black Skater Skirt + Sheer White Formal Top
You would like to wear your skater skirt to work because you adore it? With this style, we've got you beat! This is one of our classic skirt ensembles, and the black and white colour scheme adds to its attractiveness. You may achieve a professional skater skirt appearance by pairing a pleated dark skater skirt with a white lace full-sleeved formal shirt like the one in the picture.
Conclusion
Pants are more comfortable and less likely to cause fashion mishaps. No pair of bottoms, however, can match a stunning skirt when it comes to feeling and appearing put-together. A skirt is another fashionable item that nearly every woman owns. Regrettably, few people are equipped with the knowledge necessary to pull together a gorgeous skirt ensemble. As a result, a skirt sees the light of day only on rare occasions. Look your best by buying shirts, skirts and more from Dash and Dot, an online destination for everything fashionable.