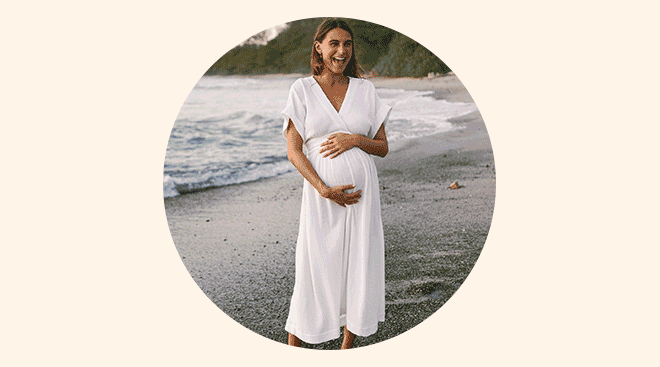 List of Maternity dresses that are worth buying
Women need to adapt to a lot of changes during pregnancy, the first and foremost being the clothes in their wardrobe. As your baby bump keeps growing bigger by the day, you will no longer be fitting into your dresses. This is why it is time you started shopping for maternity dresses so that you can flaunt your baby bump in all its glory. 
The whole idea behind buying a maternity dresses is that you can remain comfortable. These dresses are usually flowy, so you will remain at ease at all times and won't feel constricted in your old clothes, which will tighten around your bump. From hassle-free movement to peaceful sleep and naps, once you buy maternity dresses, you will love the kind of comfort they offer.
So, if you're looking to buy a maternity dress, we've put together a few options that will not only keep you comfortable but will also elevate your style.
A nursing maxi dress:

  Nursing maxi dresses are the most comfortable outfit you can wear during your pregnancy. This dress features multiple gathers, which are apt to hide your growing baby bump. The dress supports your belly just right, and the perfect flowing silhouette will flatter your body type.
Kaftan maxi dress:

Whether you're pregnant or not, you cannot argue about how comfortable kaftans are. These are the ultimate lounge clothes women are preferring these days. With the batwing sleeves and the flowing silhouette this dress features, your baby bump will remain concealed while you remain at ease.
Midi dress:

If you're going out for the day and want to wear something easy and breezy, a midi dress is ideal maternity wear. The tiered dress will keep your baby bump supported and add a touch of chic to your overall look with its slightly puffy sleeves. You can wear sneakers with this dress for your go-to daytime look.
Floral maxi dress:

Floral dresses are every woman's go-to clothing, especially for a nice day out. This floral maxi dress featuring a belt around the waist will be comfortable to wear, especially during the summer. The ruffled-down sleeves will be more comfortable since you won't feel restricted in them at any time.
Paisley printed dress:

Paisley prints are all the rage these days, and if you want to find comfort in your daytime dress, this would make a perfect choice. The tiered structure of the dress and the billowing sleeves will offer you much more comfort when you are out for shopping with your girls.
To make your life even more comfortable when you are pregnant, you can choose to buy a maternity dress which will support your growing baby bump. There is nothing more comfortable than wearing a flowy midi dress, which offers ease during frequent bathroom breaks, nursing the baby while helping you breathe easier. From floral prints to polka dots to stripes, there are a ton of prints and a plethora of colours to choose from when you buy a maternity dress.