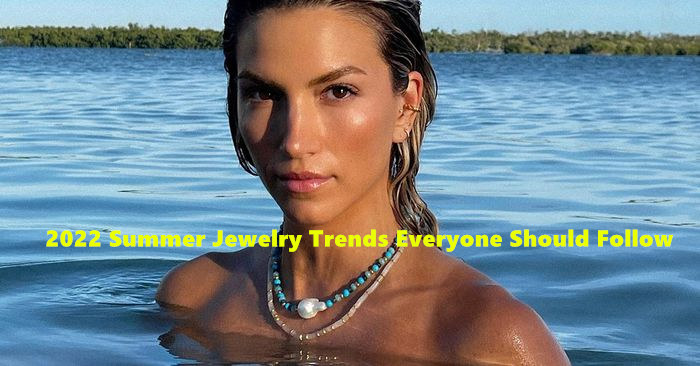 2022 Summer Jewelry Trends Everyone Should Follow  
Keep things fresh and hot this summer with the trendiest jewelry designs this 2022. After all, summer is the best time to wear barely-there clothes and light fabrics – a perfect backdrop for jewelry and all things shiny.
So get your purse ready and treat yourself to the best designs the recent summer jewelry trends have to offer. Because trust us, these summer trends are worth following.
All Things Silk
We've seen the rise of using mixed materials in the recent trends of jewelry. For this summer, the hottest design wholesale fashion jewelry that we personally loved is silk jewelry.
Come to think of it, silk makes the perfect fabric for summer. It's light, airy, and not to mention fashionable. Silk looks great tied around your neck as an accent or even as a headscarf but combine it with jewelry and it's even more fun and funky.
You can pair your maxi dress with a pair of silk earrings to mimic the continuity of your style. Silk jewelry with gold or silver metal accents is also a hit.
Big, Bold, Baubles
Statement pieces never go out of style. For this summer of 2022, the trends are all about big baubles that contrast with light outfits.
So forget being subtle, go bold with baubles that attract attention and bring the most out of your style. We're most partial to bauble chokers that showcase the hardware of the jewelry. Pair it up with the same spherical earrings and you're runway or beach-ready.
The Classic Crystal
Crystal jewelry is always a classic no matter what year or season it is. Because who doesn't want a bit of sparkle in their life?
This particular design is one of our favorites to wear during summer. There's something magical with the way your crystal jewelry glints when it catches the light of the sun. It also works with every style imaginable – from small, minimalist pieces to large crystal chunks that are sure to steal the show.
Candy-Colored Pastels
As with everything else, '80s jewelry trends are coming back and it looks like it's here to stay.
The summer is the perfect time to jump on this bandwagon. This trend is all about childish-designs-turned-runway. It's also nostalgic in a friendship-bracelets kind of way. Candy-colored pastel jewelry instantly transforms any outfit into a summer one and if you're hitting the beach on the weekend, then this design will fit the brief.
The Fringe Treatment
Clothes aren't the only ones getting the fringe treatment. Turns out, the jewelry world loves pieces that are fun and whimsical. So what better to show those two through fringe jewelry?
Fringe-adorned jewelry pieces are perfect for days that you move around. Whether it's an evening party by the beach or just a casual day of strolling, this design will bring out the beauty and personality in you. It's pretty versatile too. You can opt for oversized fringe earrings for a dramatic look or a dainty mini-fringe necklace for a more feminine touch.
Reinvented Snake Chains
Your usual chunky bicycle chain jewelry looks like it's slowly fading out of style. At least for now. This summer, the jewelry industry particularly leans more on the reinvented chains that give off a sparkly glint on your skin rather than a heavy accessory.
Snake chains are perfect standalone or layered jewelry. This style is perfect if you want a barely-there jewelry look but still adds to the completion of your style. Snake chains are great for necklaces, bracelets, and even body jewelry. The way these are made is that they contour to your body in an unobtrusive way. Perfect for a day out when you don't want anything to get in your way.
Full Body Jewelry
There's really not much that you can style on your clothes when you're wearing a bikini on a summer vacation. Our answer? Full-body jewelry that brings so much more than your usual necklace and bracelet combo.
Body chains are the perfect way to accessorize when you're wearing the skimpiest of clothing. You can choose from the different types of wholesale body chains, each more extravagant than the next. You can start with a simple chain-link belt over your swimsuit or jeans if you're just exploring if body jewelry is for you. But for those who dare, full-body chains engineered like a dress are the best way to go. Wear it over a little black dress for a fun night out or on top of your swimsuit to give your beach lounge look more interesting.
Power Jewelry Pendants
Jewelry holds so much more meaning than just aesthetics. For a lot of people, it's also a form of expression and symbolism. That's why jewelry with pendants and charms that are symbolic for many reasons is on trend these days.
Power jewelry can be anything from lucky charms and amulets to the zodiac and Chinese signs. While the jewelry itself may not have any magic powers, it does help you to empower yourself to face whatever the future holds.
Arm and Leg Cuffs
Ditch your usual bracelets and bring out your inner Wonder Woman with arm and leg jewelry cuffs. It adds an interesting dimension to your look and they can be considered statement pieces without the hassle of wearing them.
Jewelry cuffs go great on summer outfits. An intrinsic jewelry cuff paired with a simple swimsuit or a day dress will go a long way in terms of styling. Our handy tip? If you're wearing metal cuffs, choose one that has a lining inside so you don't get burned under the sun.
Go Back To Nature
Summer is all about the outdoors —the salty beaches to lush mountain greeneries. So why not keep things au naturale and opt for jewelry that features earthy tones with stones and shells?
The classic puka shell jewelry while on a beach trip never goes wrong. But if you want to add a little bit of edge, a rough stone necklace will contrast well with any outfit. This is even better if you keep things organic with rope and twine jewelry base.
Enjoy learning the latest 10 summer jewelry trends and ready to find some beautiful styles to wear for this summer? I believe you probably can't wait to see some unique and gorgeous designs of jewelry collections. So we also would like to share some great fashion jewelry websites for you to find summer jewelry, according to the market research and latest search engine findings, we hereby list these 6 online jewelry shops for your choice: Adinasjewels, Jared, JewelryBund, Etsy, Oceanjewelrystore, Baublebar. You should easily find some summer jewelry preferences from these major jewelry vendors.