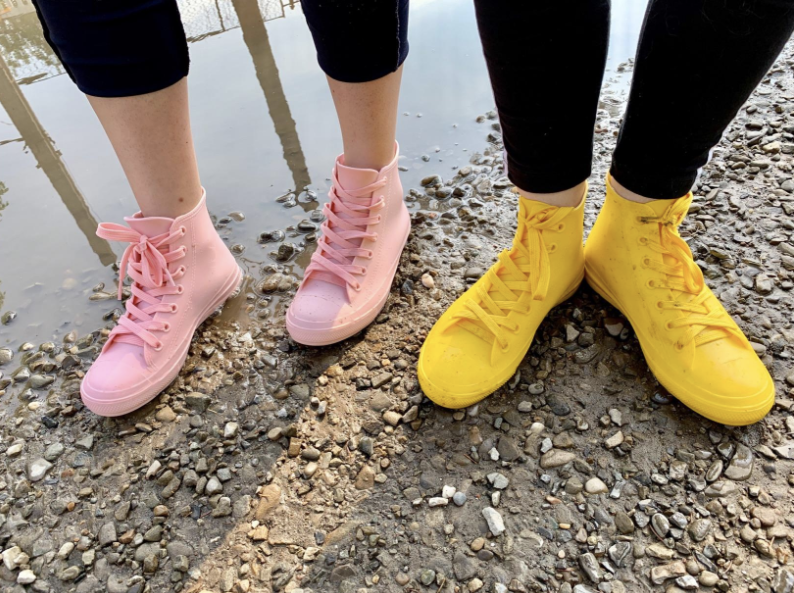 What types of shoes are best for the rainy season?
After the sweltering summer, it's that time of year when everyone wants to get outside and enjoy the rain. When the monsoon arrives, we all prepare to put on waterproof shoes. Rainy shoes must be robust, waterproof, and even resistant to bacterial and fungal illnesses brought on by rain. The best pair will not require much care and will provide durability and a convincing appearance. It is why, during the rainy season, choosing the appropriate footwear becomes a critical consideration. There are several waterproof footwear options to choose from to brighten up the drab and dismal rainy days! Here are a few suggestions to consider as you make decisions this rainy season.
1- Simple Flip-Flops
Flip flops, particularly those made of rubber or plastic, repel water and thus keep your feet dry. So even if you happen to step into a puddle, don't worry because their open structure allows you to dry your feet in minutes! In addition, flip-flops are stylish and water-resistant, making them one of the best rainy shoes options this season.
2- Sandals with rubber soles
Rubber-soled sandals are ideal for those who do not want wet and dripping shoes during the monsoon. They will give you a good grip while driving in the rain and will not soak up water, providing great comfort. In addition, these rainy shoes have deep grooves and a good grip to stabilize you in mud, slush, and dirt.
3- Locate Comfy Sandals
Straps are very important in this situation because when your sandals and flip-flops are wet, your shoes will tend to slip out. So wear sandals with straps instead. Find water-friendly sandals that provide maximum breathability, while the adjustable straps allow for easy on and off while also assisting you in maintaining your grip. It will be an excellent opportunity for you to try out rainy shoes to prepare your dress for monsoon.
4- Waterproof Boots
You can also choose lightweight rubber boots that keep your feet clean. They will keep your feet safe and clean while also adding to your fashionable look. It is best to choose waterproof footwear that is versatile and multi-purpose because it is easy to clean, comfortable, light, and durable, making it one of the most used rainy shoes.
5- Solid Backing
A flexible sole is essential when walking on different types of terrain. For example, your ankle is prone to twisting when walking on a wet surface. Therefore, look for a shoe with adequate ankle support.
Considerations When Choosing Monsoon Footwear
Wearing heels is not recommended. Your steps will be slick if you wear heels.

Always dry your wet shoes in direct sunlight. It will kill the bacteria living in your shoes. Choose odour-resistant shoes if possible.

Avoid wearing socks with sports shoes and canvas shoes when it rains. Wet socks will make you feel cold.
We hope this article has helped you a bit considering the type of shoes you would like to buy to dress for the monsoon.