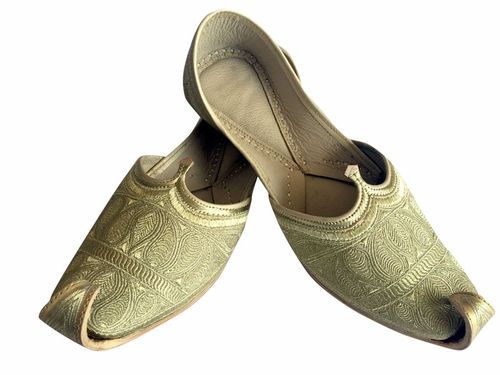 Complete your traditional look with the perfect pair of Juti for men –
Buy men Juti to complete your ensemble for the traditional festive look. Imagine having a favorite desi look with a kurta and a pheta or complete your look for Diwali Pooja or traditional wear at the office without traditional footwear. It is best to have at least a pair of traditional footwear in your wardrobe. Having just one pair of a traditional Mojari or a Juti goes a long way for many years if taken care of well.
Juti for men is worn not only for traditional occasions but also for casual wear. Depending on the material used for the shoe. They are more of a slip-on variety when worn as casual wear. The fabric that these shoes are made up of is usually cotton or leather. Yes, they are 100 percent natural and easy for the skin to breathe into. Whether you are buying casual wear, you could buy the black slip-on leather fit juti for men. For a more traditional version, the maroon or cotton embroidered zardosi work looks good. These can be worn without socks and can be easily slipped into and therefore are more comfortable to wear along with jeans or traditional salwars.
Buy Jutis as its maintenance is not much and can be taken care of at home. Simply wiping shoes with a damp cloth after every wear to take out the dust and grime will help in the longer shelf life of the Juti. Avoid exposure to harsh chemicals, radiation, and hot sun.
Juti for men need not only be worn with the traditional outfits but can also be grown with casual jeans or trousers. Traditional wedding outfits or festive occasions dresses can be worn along with the heavy embroidery for antique gold Juti. Traditional wear heavy embroidery kurtas can go well along with a solid color Juti for men. The sole of this footwear is made of rubber that is sturdy to use and can be used in all weather conditions. Juti are comfortable and the best option for people with sweaty feet and the best wear for those hot summer after or evening outings.
Some of the best examples of Jutis for men that you can wear to complete your traditional looks are –
The Nagra Men juttis are famous among men Juttis & mojaris in India. The Nagra men Juttis are made in Rajasthan. They are a little different from the basic mojaris in their shape and come in various types. Nagra juttis have a rounded front and come in elaborate designs. These designs are inspired by the natural beauty of Rajasthan and also from Mughal architecture.
Jaipuri Juttis for Men are designed out of leather and are usually paired with traditional outfits. They are famous for their delicate designs and elusive colors. Jaipuri Juttis can be your go-to choice to wear a traditional outfit anytime.
These are the best men's juttis which are trending now, the perfect pair to complete your traditional look.