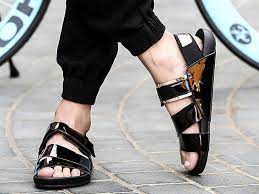 Guide To Styling Men's Sandals For All Your Wedding Functions
Footwear is hands-down the best accessory for men. Irrespective of what you wear, if it is not matched with the right shoes, then what's the point of it. Making a style statement this wedding season should be all about choosing the right mens sandals to go with the ethnic attire. Here is our guide to choosing your footwear to look stylish in the wedding events
Haldi
Haldi is a fun ceremony before the wedding where the dear ones gather up to apply haldi on brides and grooms' faces. Although there is the traditional significance behind it, the squad loves to do it for fun. Typically, yellow is the colour chosen for this ceremony. So you can go for a yellow kurta and pair it with handmade kolhapuris or modern kolhapuri sandals. These mens sandals are incredibly stylish and add a touch of sophistication to the entire look.
Mehendi
Next comes another grand ceremony which includes dying henna on the hand. While boys generally don't go for a full hand of henna dye, they apply a little. Generally, the theme of Mehendi is green; and you can experiment with any shade of green. Whether you are wearing a short kurta or a long one, you can pair it with strappy leather flats or criss-cross leather sandals. Just make sure that your pants end just above your ankle. This will give your structure a good height.
Sangeet
Sangeet function is all about bringing out the inner dancer in you. The groom's side competes with the bride's side in an enthralling dance-off session. Considering that you will spend your night dancing to the desi beats, your feet should be prepared for the same with the suitable mens sandals. You are likely to wear a desi attire for your dance like a kurta; then, a closed-toe sandal would be perfect. This is because they have closure at the back, which will give you the perfect grip. If you go for kolhapuri mens sandals for a sangeet function, the chances of accidents increase.
The Wedding Day
This is the big day where you have to bring out the best style. Whether it is your attire, hair, or mens sandal, everything needs to be on point. You can go for a plain kurta-pyjama for the wedding day and pair it with a Nehru jacket. Go for a jacket, which has texture in it, and make sure it complements the plain kurta naturally. As for the mens' sandals, you can go for jutti, closed-toe kolhapuris, open-toe kolhapuri, etc.
Reception
This is the most formal event of the wedding ceremony and closure to the big event. It is more of a formal-fancy event, so you can go for mens sandals that are less ethnic. Go for a well-fitted suit and pair it with a shoe style sandal. To add fun to your attire, you can go for a blingy jacket and pair it with a black casual sandal that has a bit of shimmer.
The Bottom Line
Some of the simplest and most incredible ways to slay your way through different wedding ceremonies are there you have it. It is all about choosing the one that works the best for you.