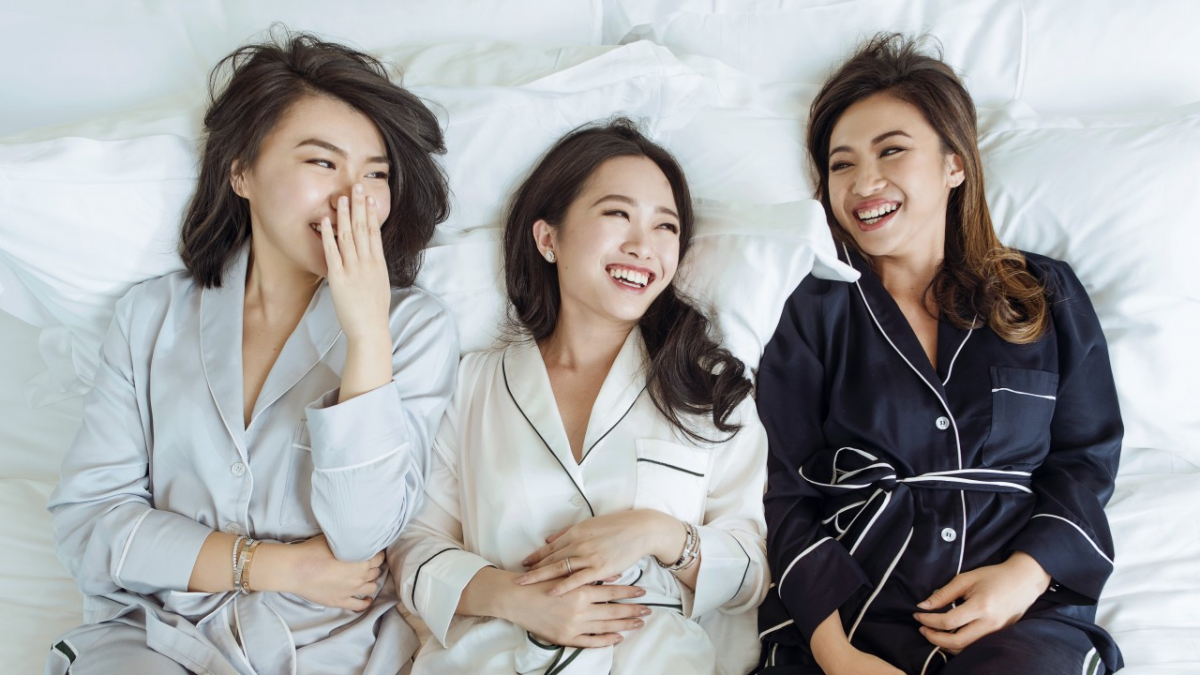 The Summer Edit: Chic Nightwear For A Better Night's Rest
After a long day of hustling, we all want to crash into our bed and snooze in like a panda. The sheer softness of our cotton bedsheets with fluffy pillows and the comfort of our soft nightwear touching our skins promises a good night's sleep. We all know the importance of good nightwear for our sleep and health.
A good cotton night dress can do wonders to our sleep quality and is essential for a rejuvenated morning. But this doesn't mean you choose some old and dull pyjama set. Your nightwear range can also be very chic and stylish. Night Suits for women now come in a variety, from your classic nightgown to the fun short sets.
Here is a range of the different types of nightwear for women that promise a good night's rest and a fresh morning.
1. Pyjama Set
Pajama sets are every girl's best friend when it comes to nightwear. No matter how fancy the shorts they own or how sheer their slip dress is, there is some comfort that nothing can offer as a pyjama does.
You'll find pyjamas in all sizes and lengths, whether knee-length or full-length. Cotton blend pyjamas with cute and sassy prints are trending this summer like hot buns, and if you don't own one already, you need to check out nightdresses for women online today.
2. Pinstripe Night Suit
The classic pinstripe or checked night suit looks ever so sophisticated and ideal for all occasions. They're very trending for bachelorette parties and slumber parties. You, too, can call in a fun night during this lockdown with some girls, board games, gossips, and wine.
The collared button-down shirts look very cute and also good for women of all ages and sizes.
Related Product
5. Sporty Jogger Set
With the new 'work from home' dress code, our loungewear, casual wear, and nightwear lines blur. Jogger pants with sweatshirts are so in vogue this season. Whether an airport look or a casual meet-up, this nightwear can double up as your outfit for the day as well as night.
Don't forget to check out comfortable track pants and jogger pants at Mystere Paris.
6. Cute T-shirt Dress
If you want cute and fun sleepwear, then go for these knee-length t-shirt dresses. They are the best for a hot summer night when your skin needs some space and breath.
You'll find a variety of colors and prints in these. For an added comfort, you can also purchase a size bigger than yours. They are also a great piece of nightwear for those heavy period days.
7. Dramatic Night Gown
The iconic night dresses for women are always the go-to options for many ladies. They are very comfortable and can also be fashionable. In addition, you'll come across a wide range of chic kaftans with drawstrings to fit your size and also look very pretty.
These were some of the most fashionable nightwear options that you could own this season. However, if you're looking for more, don't forget to check out Mystere Paris. Their nightwear collection covers a range of night suits that will make you feel comfortable and stylish.