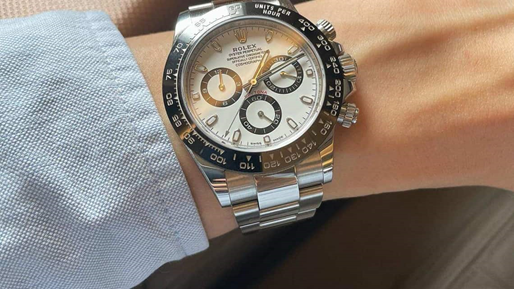 Rolex Daytona: Keep Track of the Time with Modern-day Wristwatch 
Introduction
Have you ever wondered how a watch became a fashion accessory? Well, it became one of the fashion icons two centuries ago. It was invented to create decorative jewelry on the wrist containing a timekeeping device. Later, it became one of the most convenient accessories for people to see and track the time. Students began to use it in exams, and adults used it as a fashionable accessory. Even though smartphones started replacing many kinds of stuff like radios, watches, alarm clocks, recorders, cameras, and many more things, but still, it could never replace a fashionable wristwatch. Thus, you can track the time with Rolex Daytona, a modern-day wristwatch.
Advantages
In today's smartphone era, wristwatches have maintained their significance by offering multiple and unique advantages. The advantages of wearing a wristwatch are-
Accountability- Everyone is aware of the wristwatch's essential function: to tell the time. This is a crucial factor in many professions where keeping track of time is essential, due to which wearing a wristwatch is mandatory. The professions that require accurate time tracking are- Pilots, businessmen (for business meetings), Airline or flight attendants, Stockbrokers, Designers, Military personnel, Caterers, Students, etc. If time is essential for any work, wearing a wristwatch will keep the user accountable.
Convenience- People will debate on the fact that what is the need for a wristwatch when you have a smartphone. But how often will you take out your smartphone to see the time or find a wall clock to know the time? In these situations, the wristwatch proves to be the most convenient option for seeing the time. The individual needs to flip his hand or wrist to see the time.
Portable Fashion Accessory- Undoubtedly fashion and wristwatches evolve simultaneously. They are intertwined with one another. A wristwatch completes the wardrobe because it is associated with lifestyle and fashion. Just a wristwatch can change the complete look of an individual. Therefore, it is a portable fashion accessory.
Monitoring and Tracking Device- The wristwatches of the modern world are equipped with many functions, along with telling the time. Some watches have in-built fitness tracking devices to track calories, footsteps, and heart rate. They also have a notification bell. These watches are called "Smartwatches, " the evolved wristwatch version.
Conclusion
A watch makes a person feel confident. There are multiple wristwatch functions; the essential one is seeing the time. If a person is wearing a wristwatch, it clearly indicates that the person is conscious of time and utilizes each minute productively. This feature helps to build confidence in the individual. Also, the watch of each decade or fashion trend can be kept as a memory. Thus, having a wristwatch is nothing less than a treasure.