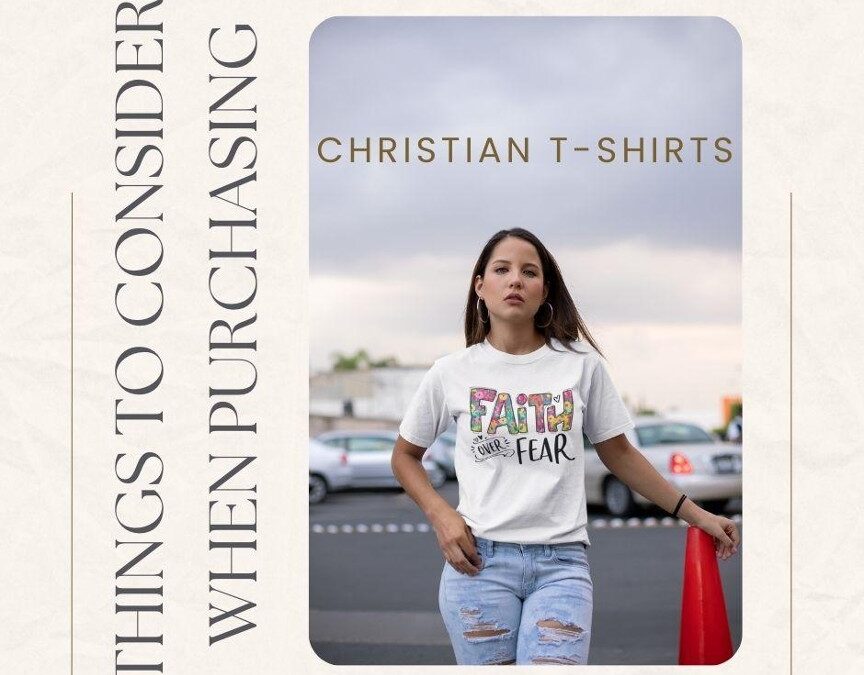 Things to Consider When Purchasing Christian T-Shirts
Christian T-shirts are a popular way for people to express their faith while also staying stylish. Whether you're buying a T-shirt for yourself or as a gift for someone else, there are a few things to consider when making a purchase. In this article, we will discuss some important factors to keep in mind when purchasing Religious apparel.
Identifying signs of a high-quality T-shirt
The first thing to consider when buying Christian T shirts is the quality of the shirt. You want a shirt that is made from high-quality materials and will last for a long time. Look for T-shirts that are made from 100% cotton or a cotton blend. These materials are breathable, comfortable, and durable.
In addition to the fabric, pay attention to the stitching and the overall construction of the shirt. A well-made shirt will have tight, even stitching and will hold up well over time. Avoid T-shirts that have loose threads, frayed edges, or other signs of poor construction.
Design and messaging of Christian tee shirts
The design of the T-shirt is another important factor to consider. Christian T-shirts come in a wide variety of designs, from simple text-based designs to more complex graphics and images. Consider the message you want to convey with your T-shirt and choose a design that reflects your personal style and beliefs.
When selecting a design, also consider the color of the shirt. Choose a color that compliments your skin tone and works well with the design. White and black T-shirts are classic choices that work well with most designs, but you can also opt for brighter colors if you want to make a statement.
Fit for comfort and wearability
The fit of the T-shirt is another important consideration. An apparel that fits well will be more comfortable to wear and will look better on you. Look for T-shirts that are true to size and that have a good fit in the shoulders, chest, and waist.
When shopping online, be sure to check the size chart before making a purchase. Different brands may have slightly different sizing, so it's important to check the measurements before buying. If you're unsure about the size, consider ordering two sizes and returning the one that doesn't fit.
Brand Reputation
When purchasing a Christian T-shirt, it's important to consider the reputation of the brand. Look for brands that have a good reputation for quality, customer service, and ethical practices. Read reviews from other customers and look for any red flags, such as complaints about poor quality or unethical practices.
You can also check the brand's website for information about their values and mission. Choose a brand that aligns with your own values and beliefs. There are several popular Christian clothing brands that offer a wide range of stylish and meaningful apparel for men, women, and children. Some of the well-known brands include: Christ Follower Life, Not Of This World (NOTW), Faith Gear, Walk By Faith Apparel, Live Bearded, Kerusso,….
​​​​​​​Wholesome Christian Shirts & Apparel promote Faith, Love, and Positivity
The intention behind Christian graphic tees is to serve a higher purpose, which is to uplift others and bring glory to our Lord and Savior. Christian t-shirts celebrate the selfless concept of putting others before ourselves, while also spreading the life-saving message of grace and salvation that comes through faith in Jesus Christ.
The Price of Christian T-shirt
Finally, consider the price of the T-shirt. Christian T-shirts come at a range of price points, from budget options to high-end designer shirts. While it's tempting to opt for the cheapest option, remember that quality should be your top priority. A higher-priced T-shirt may be made from better materials and will last longer than a cheaper option.
When shopping for Faith-based T-shirts, compare prices from different brands and retailers to find the best value. Keep in mind that a higher-priced T-shirt may be a better investment in the long run, as it will last longer and provide better value for your money.
Stylefiestadiaries: The safety tips when shopping online
When it comes to shopping online, it's important to be aware of safety tips that can help you avoid scams and ensure that your purchase is legitimate. One of the first things to look for is whether the site you're browsing is legitimate or not. This can often be identified by checking for disclaimers on the product page and looking at the site's terms and conditions. Another crucial step is to validate the reviews of the product. This can be done by reading the reviews and seeing if they seem genuine and trustworthy.
Buying t-shirts online can be especially tricky because of issues with sizing and counterfeit products. To avoid these problems, it's important to research the sizing standards of the brand and check your measurements against their recommendations. Additionally, you can take a shirt to a local store or call customer service to verify the accuracy of your chosen size. Lastly, it's important to keep in mind that returns can take time, so if you're in a rush or worried about finding a better deal, consider waiting for a sale event when items are more likely to be discounted. By following these tips, you can shop with confidence and avoid any potential problems.
In conclusion, there are several important things to consider when purchasing Christian T-shirts. Pay attention to the quality of the shirt, the design, the fit, the brand reputation, and the price. By keeping these factors in mind, you can find a T-shirt that reflects your personal style and beliefs while also providing comfort, durability, and value for your money.
For a more detailed discussion on the topic, you may want to refer to this article available at the following link: https://en.wikipedia.org/wiki/T-shirt.